Updated from NOAA web site on July 18, 2019


https://weather.com/en-IN/india/news/news/2019-07-16-earth-experiences-hottest-june-ever-record-2019
By TWC India Edit Team
July 16, 2019
•••••
As per the data released by the American space agency NASA on Monday, the global average land-ocean temperatures were 0.93°C above the normal temperature (taking 1951 to 1980 as base years). Such high temperatures have never been observed on Earth in recorded history since 1880. June of 2016 was the second-highest at 0.82°C above normal temperatures. A strong El Niño in 2015-16 was behind the high temperatures that year.
Despite being a weak El Niño year, the margin with which this year's June temperatures have breached the 2016 levels is a cause of concern for the climate community. As the push to declare climate emergency is gaining pace across the globe, the record temperatures of June is likely to feed the movement.
Of course, there have been many El Niños in the past, weak and strong, so if that were the only factor, we wouldn't keep having record highs.
•••••
One of many impacts of warmer average temperatures, as illustrated by the IPCC reports, is the higher occurrence of extreme weather events such as tropical cyclones, heatwaves, floods and droughts. In 2018, there were 70 tropical cyclones all over the world, while the long term average is just 53. The extreme rainfall episodes after a long dry spell have become a common occurrence in India this June and July leading to flash floods and extensive losses of life and property.
•••••
https://www.ncdc.noaa.gov/sotc/global/201906
•••••
The month of June was characterized by warmer-than-average temperatures across much of the world. The most notable warm June 2019 temperature departures from average were observed across central and eastern Europe, northern Russia, northeastern Canada, and southern parts of South America, where temperatures were 2.0°C (3.6°F) above the 1981–2010 average or higher. Record warm temperature departures from average during June 2019 were present across parts of central and eastern Europe, Asia, Africa, South America, the north Indian Ocean, and across parts of the Pacific and Atlantic oceans.
•••••
Averaged as a whole, the June 2019 global land and ocean temperature departure from average was the highest for June since global records began in 1880
at +0.95°C (+1.71°F). This value bested the previous record set in 2016 by 0.02°C (0.04°F).
Nine of the 10 warmest Junes have occurred since 2010.
June 1998 is the only value from the previous century among the 10 warmest Junes on record, and it is currently ranked as the eighth warmest June on record. Junes 2015, 2016, and 2019 are the only Junes that have a global land and ocean temperature departure from average above +0.90°C (+1.62°F). June 2019 also marks the 43rd consecutive June and the 414th consecutive month [34.5 years] with temperatures, at least nominally, above the 20th century average.
And the 20th century average was already higher than it used to be.
•••••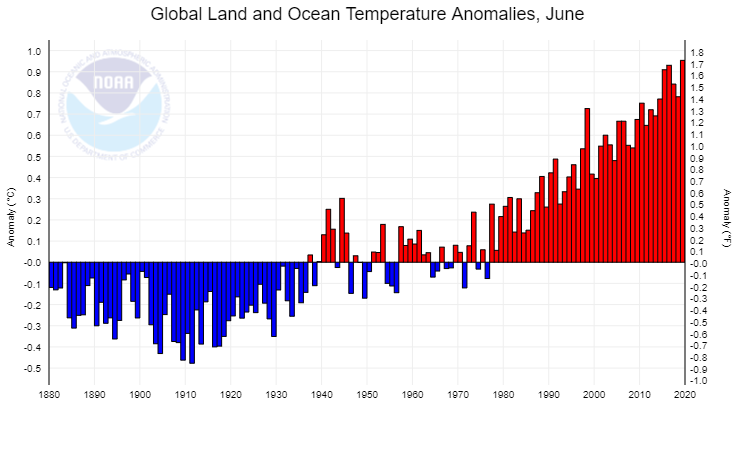 •••••
The global ocean-only temperature for June 2019 tied with 2016 as the highest June temperature on record
at 0.81°C (1.46°F) above average. Junes 2016 and 2019 are the only June global ocean-only temperature departures from average that have surpassed +0.80°C (+1.44°F). June 2019 tied with August 2015, April 2016, and June 2016 as the 10th highest monthly global ocean temperature departure from average among all months (1,674 months) on record.
The 10 highest global ocean monthly temperature departures from average have all occurred since September 2015.
•••••
The average global land and ocean surface temperature during the first half of the year tied with 2017 as the second highest January–June period in the 140-year record at 0.95°C (1.71°F) above the 20th century average. January–June 2016 was warmer at +1.11°C (+2.00°F). According to NCEI's global annual temperature ranking outlook, it is virtually certain that 2019 will end among the top five warm years.
•••••
Regionally, five of six continents had a January–June temperature that ranked among the four highest such period on record, with South America having its warmest year-to-date on record. Oceania had a near-record January-June temperature.
•••••